Waiting on Wednesday: Starling
Waiting on Wednesday is hosted by Breaking the Spine, where bloggers share the books we can't wait for!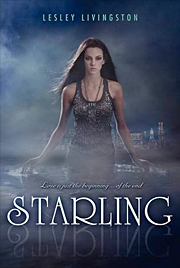 Starling by Lesley Livingston
Release Date: August 15, 2012
Publisher: HarperTeen
Pre-Order: Book Depository
"Love is just the beginning… of the end."

Mason Starling is a champion fencer for Gosforth Academy, but she's never had to fight for her life. Until now. When a ferocious storm rips through Manhattan and unleashes terrifying creatures onto Gosforth's campus, Mason barely escapes alive. Without help from the mysterious stranger who appeared in the midst of the storm, she might not have made it at all. But now, in the aftermath, Mason's life begins to spin dramatically, mystically out of control, and the only one who seems able to help her is the stranger who can remember nothing but his name: Fennrys Wolf.

As Mason and Fenn uncover more about Fenn's past and the strange events that surround them, they realize that Mason's family — and its dark allegiance to the ancient Norse gods — is at the center of everything. A predetermined fate seems to be closing in on Mason, but is it possible to change one's destiny?
I absolutely love mythology and this seems to focus on something other than the norm. I'm really excited for this. The synopsis definitely leaves me begging for the book! I like the idea of Mason and Fenn working together to discover his past.